WSR Wireless Sensor Receiver
Add wireless inputs to existing systems
Radio connected sensors offer an unrivalled flexibility to create data gathering systems without the encumbrances of wires. Often users have invested heavily in conventional loggers or other data acquisition system. For the first time Eltek's WSR enables users to integrate wireless connected systems to their existing systems, using field proven GenII transmitters and sensors providing accurate measurement without sacrificing reliability or performance. The WSR system is now offered as a system in its own right.
WSR
Up to 16 sensors' values (e.g. temperature, humidity, light, voltage or current) are presented as corresponding 0-5VDC or 4-20mA outputs on the WSR receiver, allowing quick, easy and accurate connection to existing data gathering systems.
Uses standard license exempt frequencies
Long distance assured - up to 1Km depending on installation
Uses Eltek's field proven and readily available series of GenII transmitters
Ideal for permanent or temporary applications e.g.


temperature mapping
research projects
difficult to wire environments

Continue to use your preferred analysis software
WSR
The WSR is a self-contained mains-powered receiver and output unit with built-in batteries providing 48 hours of operation in the event of a mains failure. An LCD is incorporated for real time metering of sensor values. The WSR is suitable for systems which accept 0-5VDC analogue inputs with slowly changing variables – typically measured every 10 seconds. Two models are available with either 8 or 16 inputs/outputs.
Most Eltek GenII transmitters can be used with the WSR (apart from event or pulse transmitters).
Key Features
Built in rechargeable battery pack, for more than 24 hour operation, should AC supply fail
Power supply for 110 to 250VAC included
Built in display for quick review of received sensor values
Supplied with "WSR" configuration software, easy to create authorised transmitter list and scaling.
Can be used with multiple repeaters (type RP250GD)
SMA antenna socket for attached antenna or external antenna options
Compact enclosure, free standing or wall mounting, easy to use rising cage instrumentation connectors.
Versions available to provide 8 or 16 4-20mA output or 8 or 16 0-5VDC output.
Typical System Configuration
Accessories
Antennae:
UHFflexi/SMA standard quarter wave whip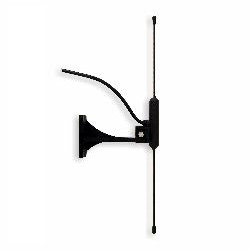 LW-ANT/SMA lightweight indoor or external dipole antenna
Yagi directional antenna
The UHF flexi/SMA standard quarter wave whip antenna and LW-ANT/SMA antenna have a similar performance profile; but the LW-ANT/SMA can be used when the logger is required to be placed inside a screened cabinet, or better reception can be achieved by placing the antenna in a particular location where it would not be practical to locate a logger. Yagi directional antennae are useful in outdoors applications for achieving a longer distance between the transmitter and receiver. Please note that in the UK, these antennae should only be used with a logger or receiver; please check your local regulations if you are outside the UK.
Specification
| | |
| --- | --- |
| Receiver frequency: | 434.225Mhz , 914.5Mhz or other (contact Eltek) |
| Sensitivity: | -110dbm |
| Useable sensitivity: | -117dbm |
| Compliant to: | EN300 220-1 |
| Ambient temperature: | -10 to +55°C |
| Humidity: | Up to 95% (non condensing) |
| Power supply requirements: | 12V DC at 500mA |
| AC power supply provided: | 100/250AC to 12VDC type MP12U |
| Built in rechargeable batteries: | 7.2V (6 x NiMh 1.8Ah pack) |
| Battery reserve: | >24 hours |
| Dimensions (ex. Antenna): | D 41mm x W 80mm x H125mm |
| Weight: | 500g inc. batteries |
| Antenna connector: | SMA (socket) |
| Programming connector: | 6 pin Mini Din (socket) |
| Analog outputs connector: | rising cage screw connector |
System capacity
| | |
| --- | --- |
| Type | Output configuration |
| WSR8V | 8 x 0-5VDC |
| WSR16V | 16 x 0-5VDC |
| WSR8C | 8 x 4-20mA |
| WSR16C | 16 x 4-20mA |
Documentation
Product datasheet: